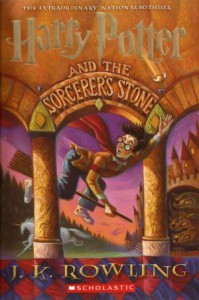 My family read this aloud when it first came to the USA, when it was on the shelves with the other books and the librarians had never heard of "Harry Potter," lol.
I remember being quite amazed - this book was like no other I had ever read. The kid lived under the stairs! He was rescued by a giant on a motorbike! I was spell-bound. I loved every minute of this book, every minute.
Now, 10 years later, it's hard to remember what my previous realms of imagination were like, as they were forever changed by Harry, Dumbledore, and all the others at Hogwarts. I envy my children - they've grown up with Harry.
Of all the Harry Potter books, I like this one the best. Rowling has changed the world of fairy tale.
OOOhhhh how I would have loved to have attended Hogwarts! Can you just imagine how exciting that would be?